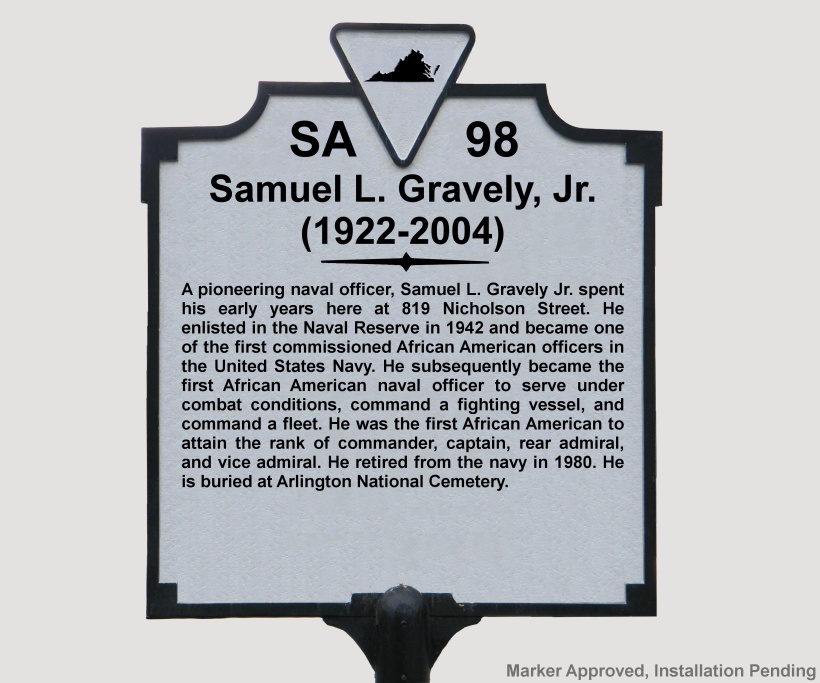 Samuel L. Gravely, Jr. (1922-2004) Marker, SA-98
A pioneering naval officer, Samuel L. Gravely Jr. spent his early years here at 819 Nicholson Street. He enlisted in the Naval Reserve in 1942 and became one of the first commissioned African American officers in the United States Navy. He subsequently became the first African American naval officer to serve under combat conditions, command a fighting vessel, and command a fleet. He was the first African American to attain the rank of commander, captain, rear admiral, and vice admiral. He retired from the navy in 1980. He is buried at Arlington National Cemetery.
Marker Information:
Additional Information:
gps and description of physical location represent best guesstimates at time marker was approved. Both will be updated when marker is installed.
Date Approved by DHR:
12/15/2011
Original Sponsor:
Department of Historic Resources
Region:
Richmond Region
Physical Description of Location:
Proposed Location - near his childhood home in Fulton. Guesstimate at time of approval is near intersection of Williamsburg Avenue and Nicholson Street, Henrico, VA 23231.
GPS Location:
37.520806,-77.410465
Display on Google Maps
Display on Google Earth