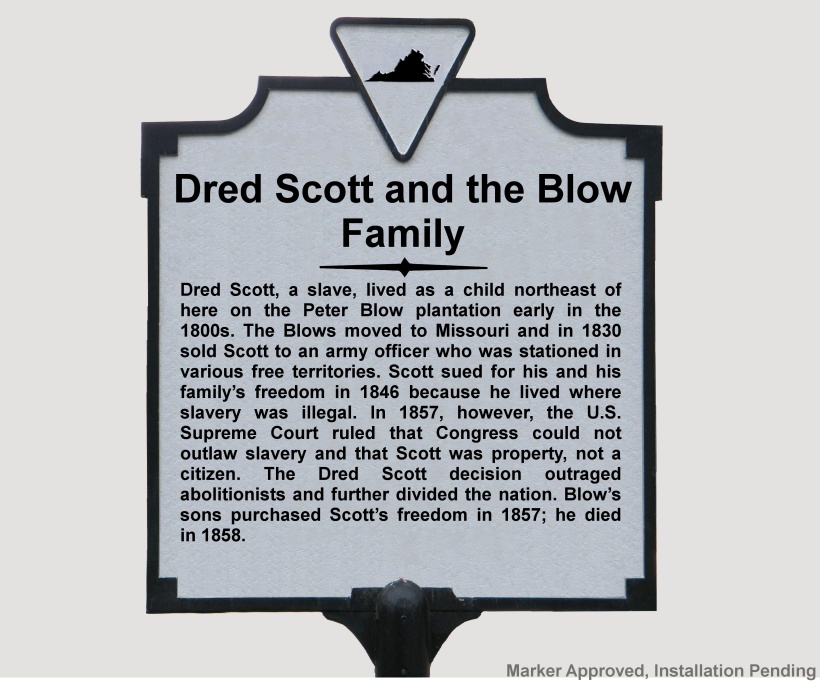 Related Products

Tidewater Region Guidebook
Dred Scott and the Blow Family Marker, UT-24
Dred Scott, a slave, lived as a child northeast of here on the Peter Blow plantation early in the 1800s. The Blows moved to Missouri and in 1830 sold Scott to an army officer who was stationed in various free territories. Scott sued for his and his family's freedom in 1846 because he lived where slavery was illegal. In 1857, however, the U.S. Supreme Court ruled that Congress could not outlaw slavery and that Scott was property, not a citizen. The Dred Scott decision outraged abolitionists and further divided the nation. Blow's sons purchased Scott's freedom in 1857; he died in 1858.
Marker Information:
Additional Information:
The United States Supreme Court handed down the Dred Scott decision on March 6, 1857.
Date Approved by DHR:
06/16/2011
Original Sponsor:
Department of Historic Resources - Proposed by Jeff Hines, Southampton County Historical Society
Region:
Tidewater Region
Geographic Location:
Southampton County
Physical Description of Location:
Proposed Location - Route 58 near the town of Capron VA.
GPS Location:
36.705427,-77.20938
Display on Google Maps
Display on Google Earth