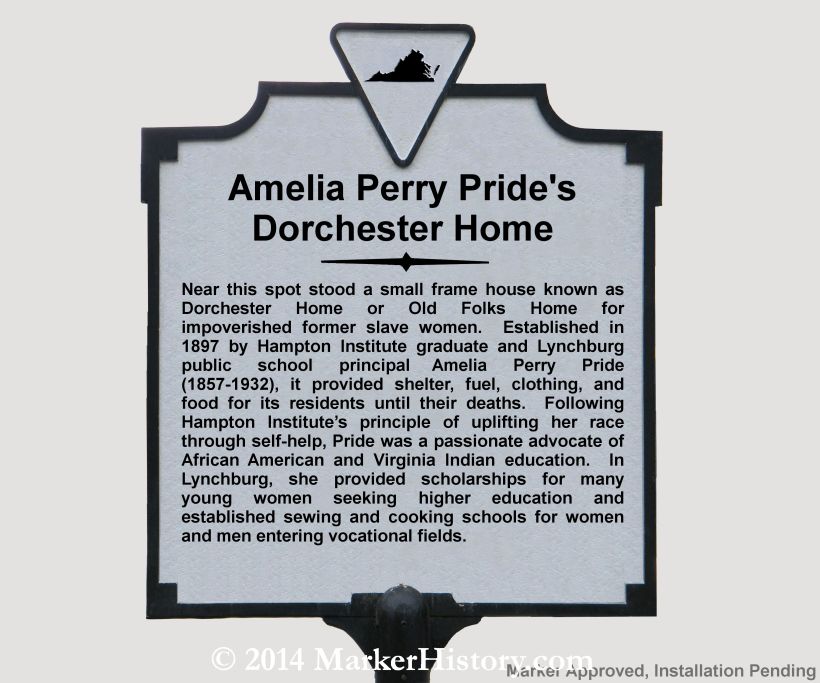 Amelia Perry Pride's Dorchester Home Marker,
Near this spot stood a small frame house known as Dorchester Home or Old Folks Home for impoverished former slave women. Established in 1897 by Hampton Institute graduate and Lynchburg public school principal Amelia Perry Pride (1857-1932), it provided shelter, fuel, clothing, and food for its residents until their deaths. Following Hampton Institute's principle of uplifting her race through self-help, Pride was a passionate advocate of African American and Virginia Indian education. In Lynchburg, she provided scholarships for many young women seeking higher education and established sewing and cooking schools for women and men entering vocational fields.
Marker Information:
Additional Information:
Marker dedication-unveiling scheduled for Sunday, September 14 at 2:00pm.
Date Approved by DHR:
03/20/2014
Original Sponsor:
Old City Cemetery, Anne Spencer House and Garden Museum, Lynchburg Historical Foundation
Region:
Blue Ridge and Central Piedmont Region
Geographic Location:
Lynchburg
Physical Description of Location:
Proposed Location: 1305 Pierce Street, Lynchburg VA.
GPS Location:
37.404255,-79.152047
Display on Google Maps
Display on Google Earth